The Preciseline Pressure Transducer (manufactured by Keller-America ), not unlike our EtherMeter, offers a digital Modbus-based solution to a water telemetry problem that was previously solved by analog (4-20mA) instrumentation.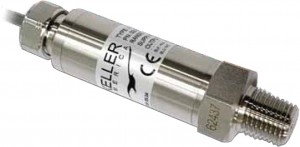 Preciseline Pressure Transducer (by Keller-America).
In the case of the Preciseline, the water pressure signal is converted into Modbus; whereas in the case of our EtherMeter, error-free totalization and flow-rate data is collected from a compatible flow meter(s) and converted into Modbus .
As I/O counts grow and instrumentation complexity increases in water plants and pump stations, the addition of smart Modbus sensors is a natural solution that can simplify control system integration challenges.
For example, using a multi-drop Modbus/RTU network, a single shielded cable (+24VDC/Gnd, RS485A/RS485B) can be routed throughout a water plant or pump station to communicate with (and provide power to) an assortment of Modbus-based devices.
As an example, Jersey County Rural Water Company (Jerseyville, IL) recently completed construction of a new pumping station at Godfrey, IL.  The control system at the station features a Modbus/RTU multi-drop network that communicates to 3 Preciseline transducers which monitor station effluent pressure, influent pressure, and the level of water in the ground storage tank.
The same network also includes 2 EtherMeters, which report totalization and flow-rate from 4 flow meters (2 Sensus Omni-T2 meters and 2 Neptune HP Turbine meters).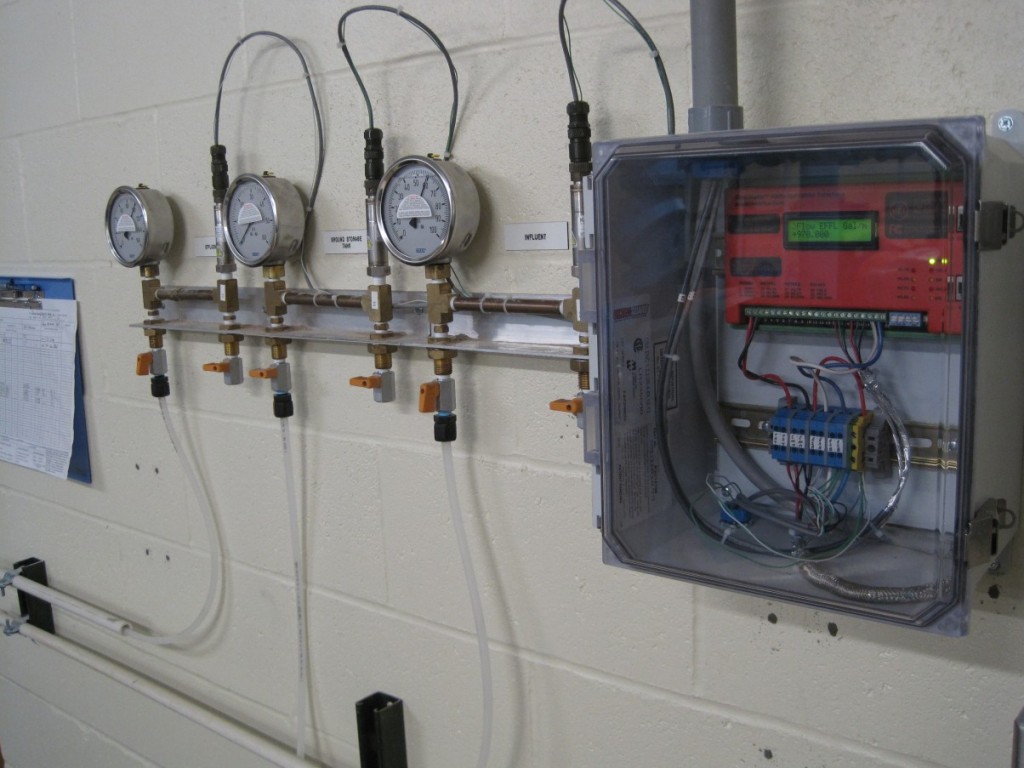 3 Preciseline pressure transducers and 1 EtherMeter connected to the pump station's multi-drop Modbus/RTU (RS485) network. The transducers are monitoring effluent pressure, influent pressure, and ground storage tank level. (Click to zoom.)
Had this project been addressed using legacy analog methods, then the aforementioned signals would have required 7 shielded cables connected to an RTU via 3 analog-digital converters and 4 pulse-counting channels.
Therefore, the use of Modbus may significantly reduce the costs associated with wiring, conduit, and instrumentation.  Furthermore, the future addition of other Modbus-based devices is highly simplified.
An EtherMeter-connected, 6″ Sensus Omni-T2 meter. One of four meters in the pump station. (Click to zoom.)
In this application, Jersey County's potential upgrade plans include tying the 3 variable-speed drives, 3 motorized valves, backup generator, power meter, and Chlorine Monitor into the Modbus network.
Modbus/RTU network schematic. (Click to zoom.)
On 03 Sep 2010, Jersey County Rural Water Co. is hosting a Dedication Ceremony and Open House for the Pump Station featured in this article. The described Modbus flow metering and pressure monitoring technology will be displayed at this event. If interested in attending, please contact Jim Mimlitz at SCADAmetrics (636)938-9633.
For further information on the Preciseline and other Modbus-capable pressure transducers, please contact Chris Lilly at Keller-America (757)596-6680.
[original article located at: https://scadametrics.com/blog/?p=205]